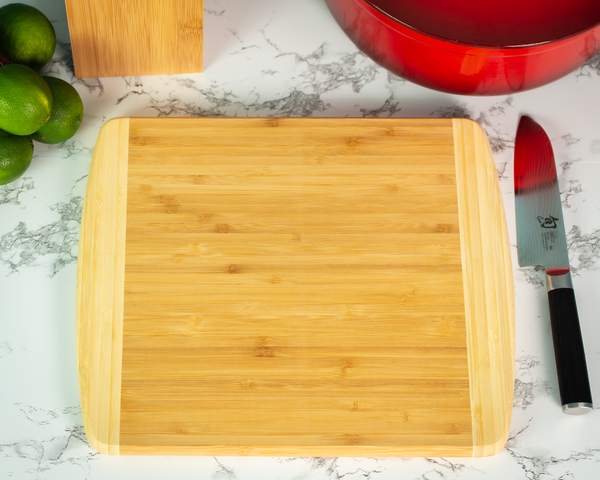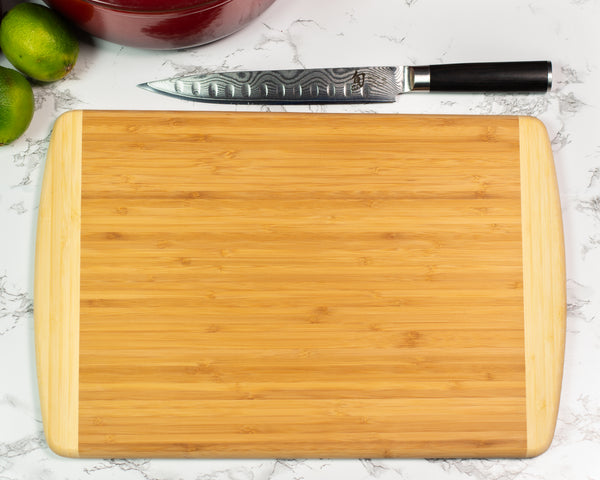 Cutting Board | Two-Tone Bamboo
Product Description
This 2-Tone Bamboo Cutting Board is the perfect addition to any kitchen, and is built to be your everyday, go-to cutting board. The generous surface area works perfectly for a wide variety of cutting, slicing and dicing needs. It exudes natural beauty with its two-tone construction of light bamboo edges and flat grain bamboo center. The board is made of sustainably sourced bamboo, which is better on knives than plastic while still wiping easily by hand when the cutting is done. Subtle branding and personalization is the perfect finishing touch!
Specs
Finished with food grade mineral oil for longevity

Lightweight

Dimensions:

13.5" (L) x 11.25" (W)

18" (L) x 12" (W)

Engraved Color: Brown (due to the nature of wood grain, shades will vary)
*Due to the nature of bamboo, knots and other variations may appear through the engraved design. These are not considered imperfections, but are part of the uniqueness and beauty of each individual board.
CARE GUIDE
- Handwash with warm, soapy water after each use and dry thoroughly with a towel. Never soak or submerge in water, run in a dishwasher, or use in a microwave. Do not place hot pans on your board.
- Apply Mineral Oil and/or Beeswax Wood Conditioner to all surfaces (including edges and ends) any time the board looks/feels dry. If at any time the grain of your product becomes raised (rough feeling), lightly buff the affected area with 200 grit sandpaper to smooth the finish.
BULK PRICING
- Our bulk pricing starts as low quantities and varies by product.
-
Click here
 to request a bulk order quote.
FAQ
What is your minimum quantity?
Unless otherwise stated, minimum quantity is one.
How much is personalization/customization?
Personalization is FREE!
How long will the engraving last?
Laser engraving is a permanent imprint method and will not wash/wear off. So it will last as long as the product lasts.
How long will it take to get my products?
Most order ship within 2-3 business days.
Shipping speed varies and is based on your selection at checkout.
Do you offer bulk pricing?
Yes, bulk pricing varies by product. Please
contact us
 for more info.