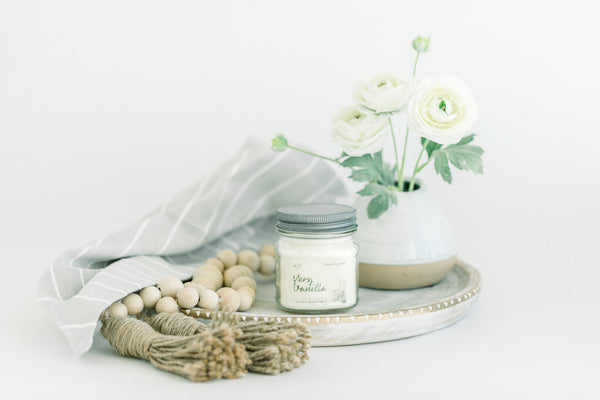 Product Description
These luxurious Soy Wax Candles, infused with the irresistible aroma of vanilla bean and sweet spun sugar, expertly blended with notes of delicate whipped cream. This exquisite fragrance is perfect for creating a warm and inviting ambiance in any room of your home.
These candles are handcrafted using premium quality, eco-friendly soy wax and cotton wicks to ensure a clean, long-lasting burn. The mason jar design adds a charming rustic touch, making it an ideal addition to your home decor.
Candles are very versatile and can be appreciated by almost anyone, making them a great gift for many occasions, including housewarming, Mother's Day, Holidays, Birthdays and weddings.
*Personalization is not available on individual candles.
**Custom labels are available for bulk purchases.
Specs
HAND POURED IN COLORADO

8oz Mason Jar

Soy Wax

Cotton Wick
CARE GUIDE
Candle Care Instructions
- When lighting a soy candle for the first time, allow the wax to melt all the way to the sides of the container. Depending on the container size, this should take around one hour.
- Soy wax burns at a lower temperature than paraffin wax, so soy wax candles require a thicker wick, which does not burn 100% and needs to be trimmed regularly.
- Aim to trim the wick to about 1/4" before re-lighting your candle. This will ensure a long-lasting candle.
BULK PRICING
- Our bulk pricing starts as low quantities and varies by product.
-
Click here
 to request a bulk order quote.